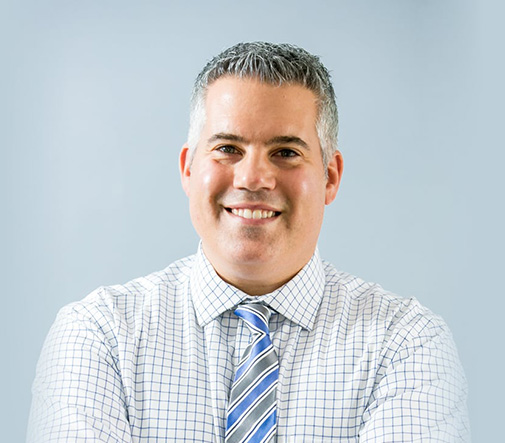 Dr. William Nolan, know as Dr. Bill to his patients, is originally from the North Shore. He grew up in Hamilton and attended Bishop Fenwick High School. Dr. Bill earned his undergraduate degree in Sports Medicine at Norwich University where he participated in the Corps of Cadets.
While at Norwich, Dr. Bill decided he wanted to be a chiropractor. Dr. Bill was involved in a motor vehicle accident during winter break, and needed to seek care due to the pain. Dr. Bill went to see a chiropractor for the first time in his life. The chiropractor took X-rays, showed Dr. Bill what was wrong, and recommended a treatment plan.
After winter break, Dr. Bill returned to school free from pain. While back at school he participated in a game of pick-up basketball. After the game, he realized that he did not use his inhaler for exercise-induced asthma! Dr. Bill was sold on chiropractic for two reasons. First, his pain went away. Secondly, the chiropractic adjustment removed the interference in his spine so his lungs were able to function better, which improved his exercise-induced asthma. It was at that moment that Dr. Bill decided he wanted to become a chiropractor. Following graduation, Dr. Bill enrolled in Logan College of Chiropractic in Chesterfield, MO, where he earned his Doctorate of Chiropractic degree.
Shortly after graduation in 2001, Dr. Bill opened his first practice in Oakville, MO. This practice quickly grew to be one of the largest practices in the St. Louis area. Dr. Bill enjoyed his success in the Midwest but missed the East Coast.
In 2007, Dr. Bill opened his second practice in Newburyport, MA. This practice, like the one in Oakville, also experienced rapid success. This success caught the attention of the business world and in late 2008, Dr. Bill started a management consulting company with another Norwich graduate. The company focused on customer service and customer retention for YMCA's, non-profits and other small businesses.
In late 2011, Dr. Bill decided that the business world was challenging and exciting but that he missed patient care. Dr. Bill decided that practicing in the same community where he lived was near and dear to his heart. Cherry Street Chiropractic was born in January 2012. Dr. Bill started seeing patients in 2012 and the practice started to grow. Dr. Bill used his functional medicine training, clinical nutrition education as well as his love for sports medicine to create the premiere place for total body wellness in Danvers.
In 2014, Cherry Street received Honorable Mention in the Wicked Local Reader's Choice awards. Dr. Bill was honored to receive such an award after only being open for 18 months and in a town with 10+ chiropractic offices.
In 2015, Cherry Street was voted #1 Chiropractor in Danvers as well as a Regional Silver Award! Dr. Bill was honored and humbled. The recognition was a dream come true but at the same time Dr. Bill wanted to do more for his patients.
Dr. Bill describes 2016 as "the year it all came together." Cherry Street Chiropractic was again voted #1 Chiropractor in Danvers and another Regional Silver Award! In addition, Cherry Street was nominated, by the Beverly Chamber of Commerce, as Small Business of the Year. Also, in 2016, Dr. Bill expanded the practice to offer medical services! Another member was added to the Cherry Street family: Cherry Street Physical Medicine which offers stem cell therapy for degenerative joints, medical weight loss, PRP therapy, B12 injections and more. Dr. Bill was proud to present Cherry Street Health Group, the premiere healthcare facility on the North Shore.
When not at Cherry Street, Dr. Bill is active in the Danvers Community. He is an active member of Danvers Rotary where he will be President in July 2017. The past three years, while in Rotary, Dr. Bill started the Danvers Farmers Market and was the Market Manager for the first two years. Dr. Bill is also a Board Member for Danvers Rotary.
Dr. Bill, his wife Deahdra, and their two children, Bella & Tony, live in Danvers. Danvers is an important part of their personal and professional lives. Deahdra also owns a business in Danvers: Bella Moda Salon.
Dr. Bill's spare time he enjoys traveling, skiing, spending time with his family and coaching sports. He is also a current Board Member for the Friends of the Danvers Council of Aging. He served as the past president of the Norwich University North Shore Club.
Dr. Bill frequently lectures in the surrounding areas on topics such as Stem Cell Therapy, weight loss and spine health.
As part of his diverse regime to stay healthy, Dr. Bill practices intermittent fasting and loves Bulletproof Coffee.
Say Goodbye to Pain and Hello to Living
Providing Chiropractic Care & Injury Rehabilitation to the North Shore Community
New Patient Special Offer Complimentary Consultation